Taino Farm is closed to the public with the exception of Farm Tours.    Please do not just drop by expecting access, as we are a working farm and are busy focused on our projects.  This includes access to the river and swim platform.
Farm tours is how the farm sustains itself, and 100% of farm tour proceeds go towards supporting our efforts at inspiring positive and socially responsible change.  Thank you for your understanding.
Getting from Cabarete to Taino Farm via public transportation is pretty straightforward, but doing it alone for the first time can feel a bit daunting if you're still relatively unfamiliar with the area, the customs and how things work.   That's why we made this step-by-step guide with a couple of key photos to help you know you're on the right track.  We found that even if you don't speak any Spanish, the trip is quite simple as long as you know what to look for.
---
The journey consists of three stages: 1. Catching a guagua from Kite Beach to Sabaneta (15 minutes; 35 pesos), 2. Catching a motoconcho from Sabaneta to Los Brazos (about 15 minutes; 50 pesos), and 3. Walking from Los Brazos to Taino Farm (5 minutes; 0 pesos).
---
1. Catching a Guagua from Cabarete to Sabaneta
From the beach side of the road, walk directly across the street and stand in the grassy area off the side of the road to wait for a guagua. East-bound guaguas arrive roughly every fifteen minutes and generally run until around 7pm.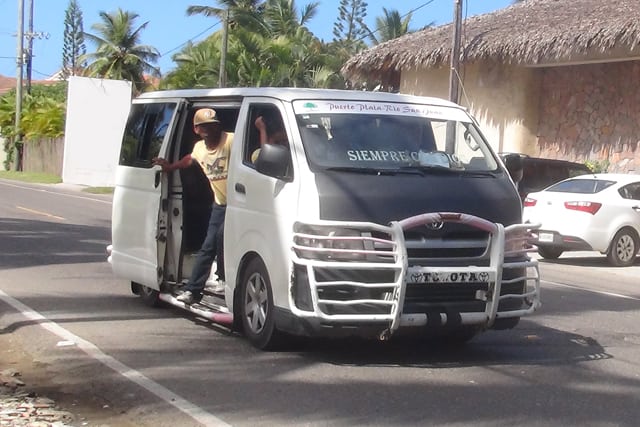 If you need to travel after the guaguas have stopped running, you can always catch a carrito (literally "small car") at almost anytime of the day or night—just remember that the daytime price of 25 pesos doubles to 50 pesos after dark. Be sure to use good judgment when hopping into the backseat of a carrito late at night—in general if you see several people already crammed into the backseat, it's probably safe to get in. All carritos are required to display a small triangular-shaped sign with a little number on top to show they are licensed to operate. If you don't see one, don't get in after dark.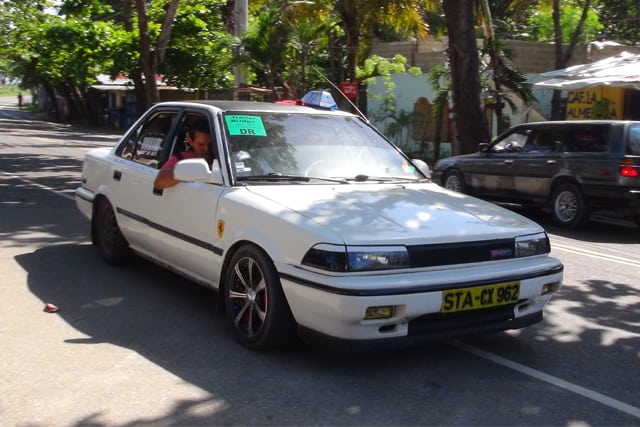 Don't expect guaguas to automatically stop for you just because you've been standing on the side of the road! Most likely you'll have to keep an eye on traffic and flag one down yourself. Almost every guagua has a money collector who packs passengers into and out of the guagua, and usually he'll wave an arm out the window as the guagua approaches to "ask" whether anyone is waiting to jump in. Some drivers also honk the horn, clap their hands, or flash their brights as they approach, so when in doubt simply wave back and if it's a guagua, it should stop for you.
Once on board the guagua, you will often be packed in tightly with up to 4 or 5 other people sharing the same bench. (I recently rode in a guagua that had 24 people in total!) Simply tell the money collector "Sabaneta" when you hop on board, and hand him 25 pesos. Sometimes he will be too busy rearranging people to take your money right away, so I often wait to pay him until after everyone is seated and he starts collecting money from the other passengers.
Sabaneta is a fairly major transit point and the guagua will most likely make a stop here to pick up or drop off other passengers, but it's still a good idea to keep an eye on your surroundings and call out to the driver to let him know you want to stop.  In general, the locals are friendly enough that you can simply turn to the person sitting next to you and ask "Sabaneta?" and they should realize you're unfamiliar with the area and will probably help you out by yelling out to the driver for you when you get close. A third option is to just ask the money collector "Sabaneta?" about ten minutes into the ride to remind him you have no idea where Sabaneta is.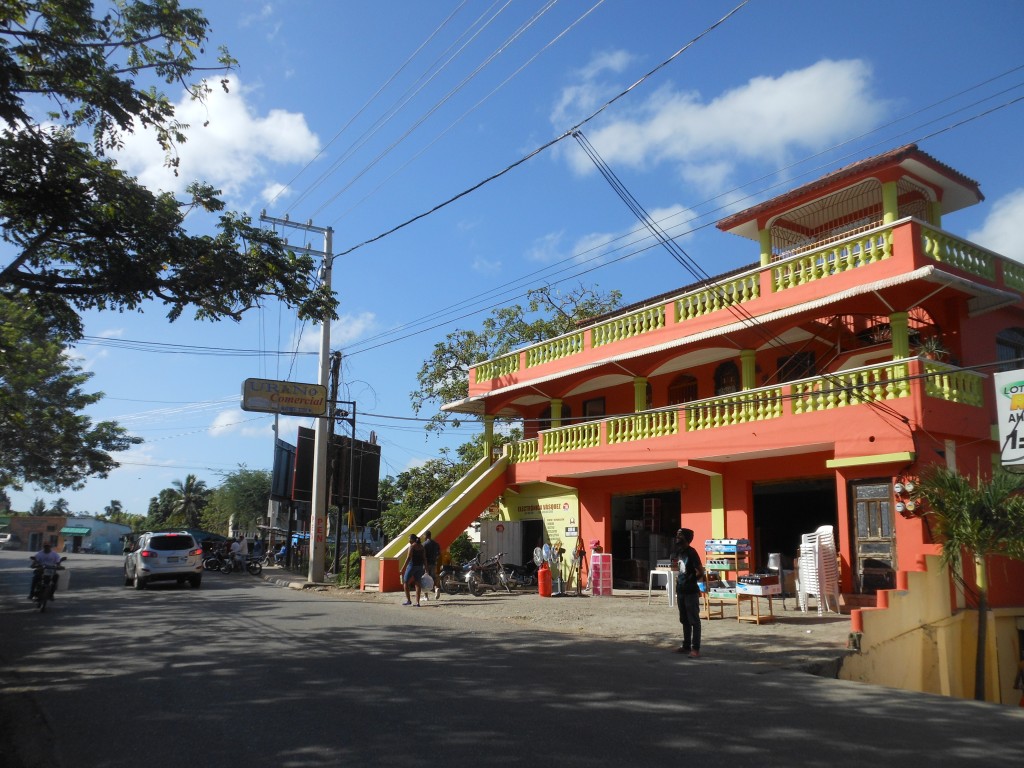 Catching a Motoconcho from Sabaneta to Los Brazos
When you get off the guagua at the intersection in Sabaneta, look to the right side of the road and you should see several moto drivers waiting together near the sidewalk beneath some large billboards.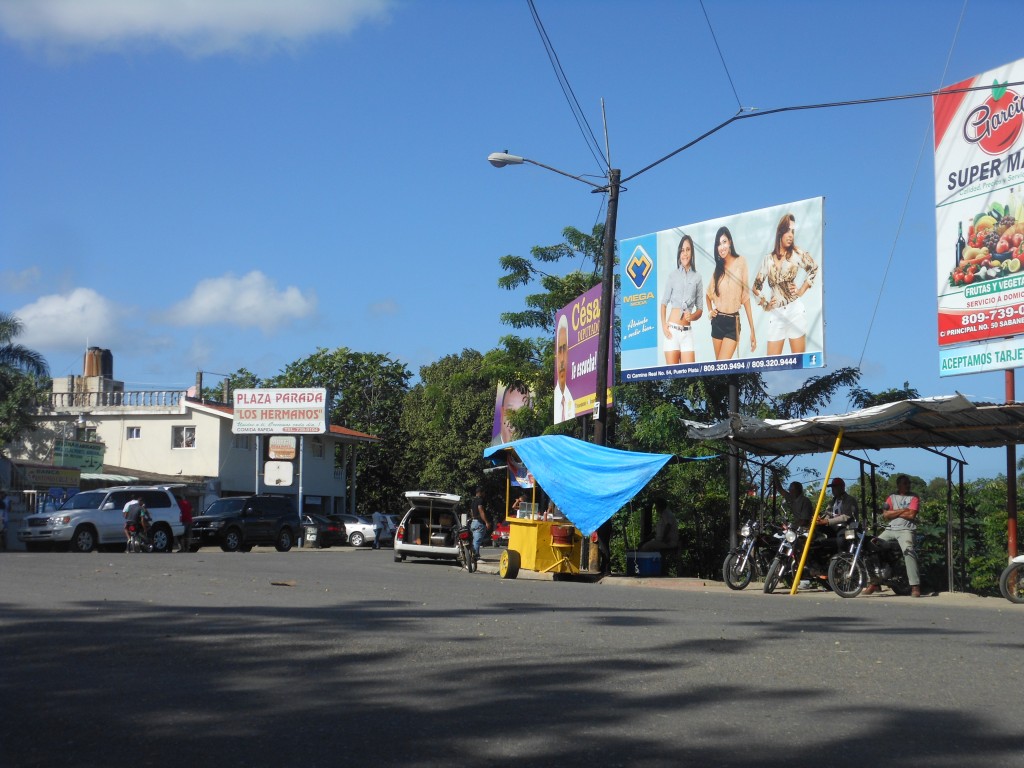 A ride from Sabaneta to Los Brazos is 50 pesos per person, and even if two passengers hop on the same bike together, each will be expected to pay the full price. For what it's worth, when I first arrived in Sabaneta with my giant backpack, the driver asked me for 75 pesos but that's probably only because it was nearly the size of half a normal person. Before jumping on, tell the driver "Los Brazos" and make sure to confirm your price ahead of time.
Although it's generally not recommended to travel after dark, if you find yourself traveling at night you can expect the price to automatically double to 100 pesos, with some drivers asking for as much as 200 if it's especially late. In general, when I know in advance how much a particular trip should cost, I like to show the driver that I know the price by asking him if he will take me for a certain price. I've found that doing this means you're much less likely to have to bargain back and forth to get the real price.
The ride takes about 10 to 15 minutes and follows the same paved road until you reach a wide, flat bridge that crosses the Yassica River. The neighborhood of Los Brazos begins at the other side of this bridge.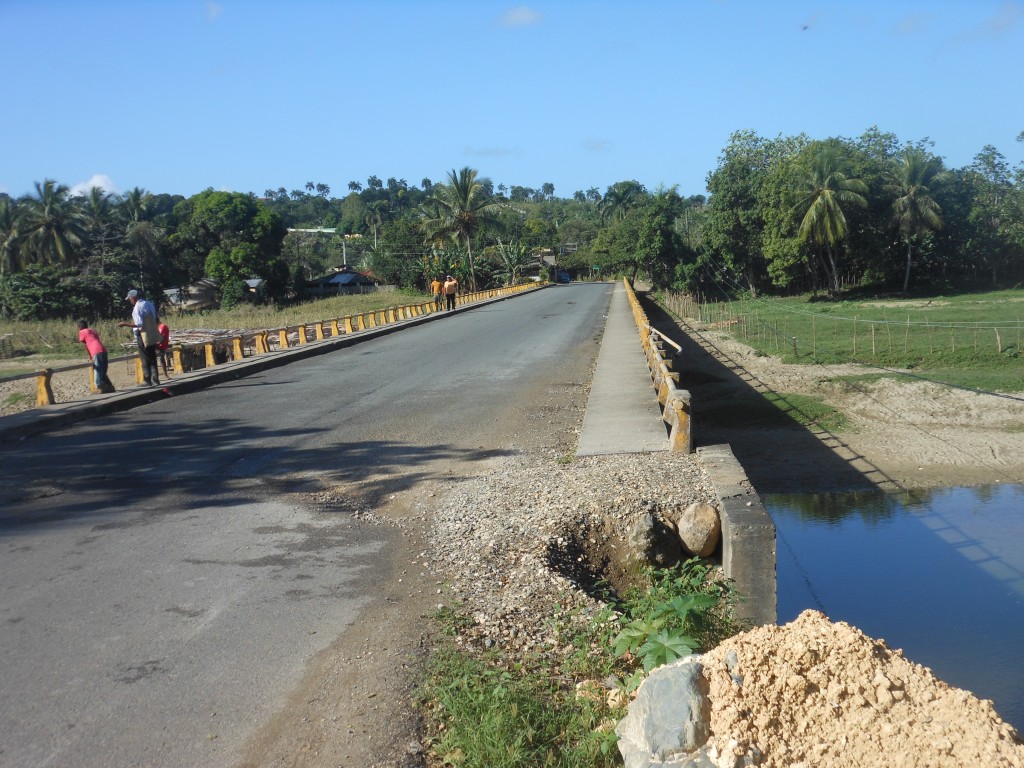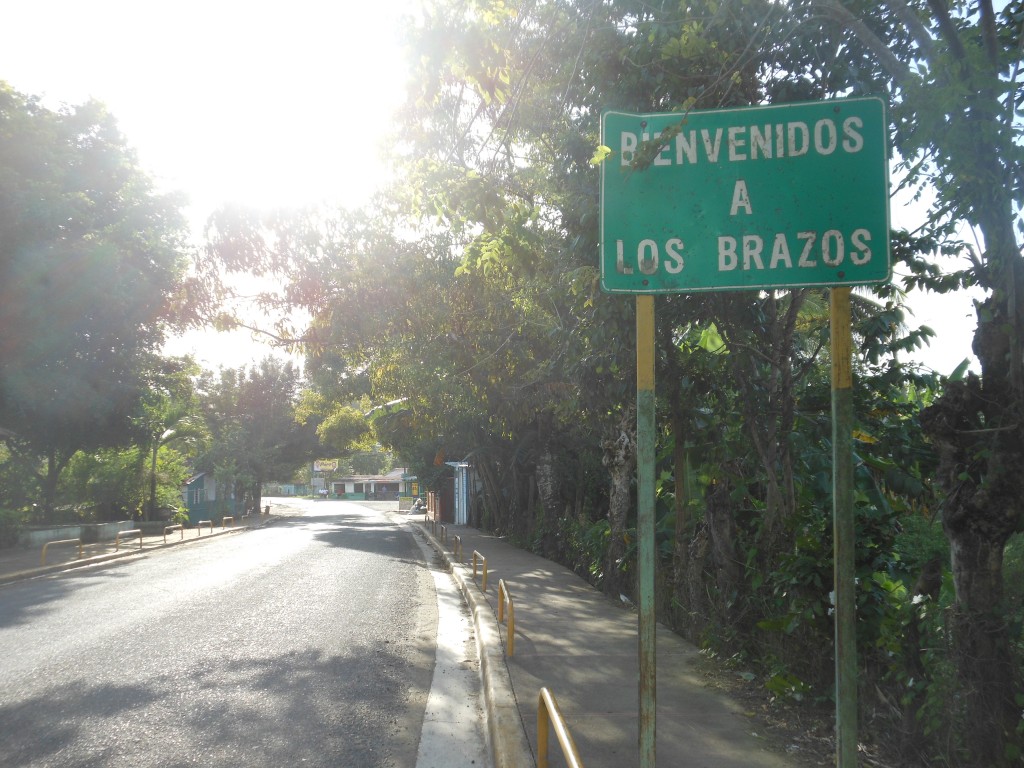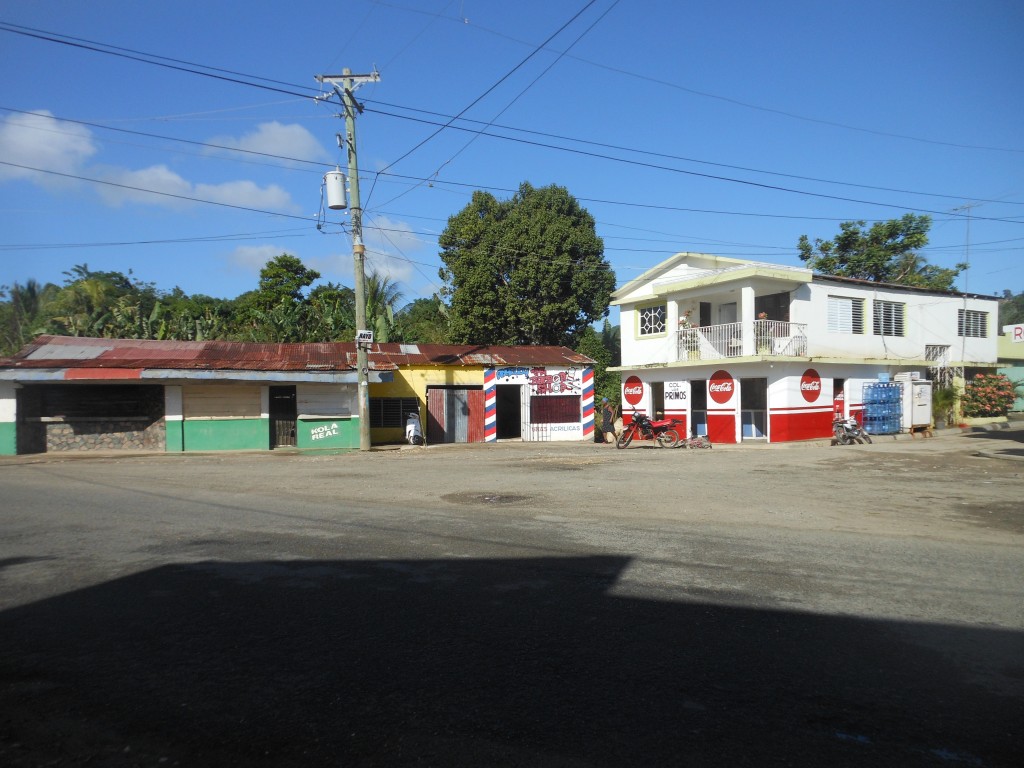 If your driver has taken visitors to Taino Farm in the past, he might drive you through the tiny neighborhood in Los Brazos and drop you off in front of the gate at the farm. Otherwise, it's about a 5 minute walk through the neighborhood to finish the journey by foot 🙂
---
Walking to Taino Farm
At the intersection in Los Brazos, look for a two-story building with red-and-white Coca-Cola signs painted on it's walls. Turn right to walk down the small dirt road so that this building is on your left as you walk past it. Head down the road for about a minute and take your first left at a small, brightly-painted orange house.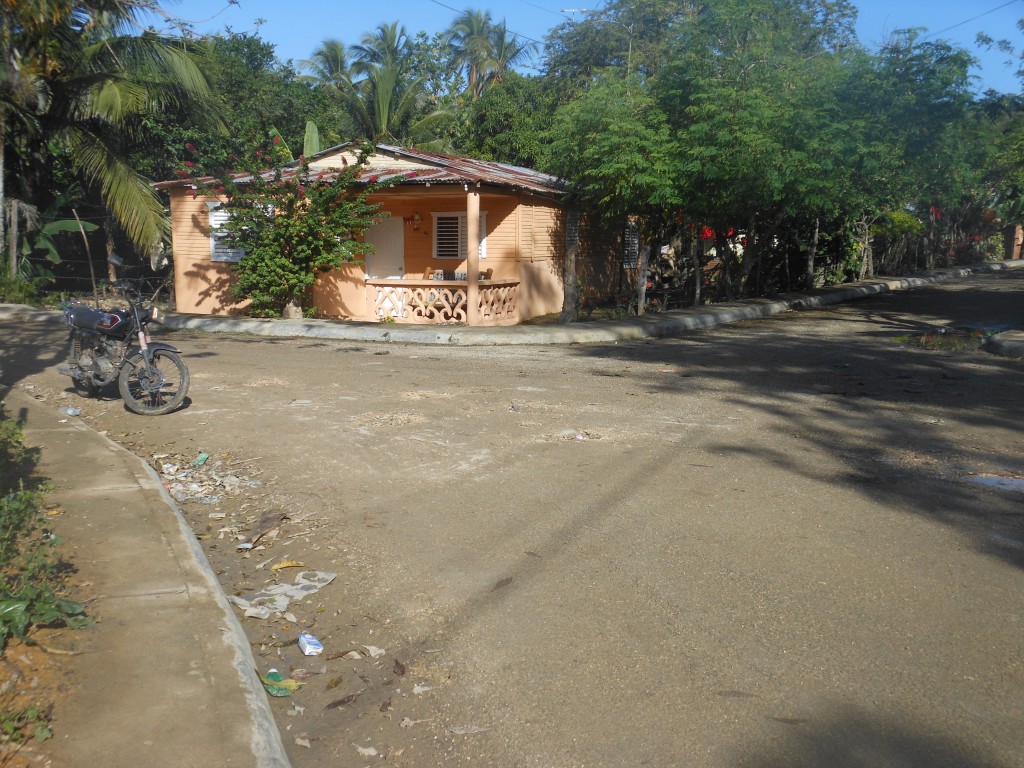 Follow the bumpy, rock-covered road up and over a small hill, then past a small colmado on your right that sells groceries.  The gate to Taino Farm is the long red gate you will see on the right hand side just after the hill flattens out again, roughly 10 meters past the colmado.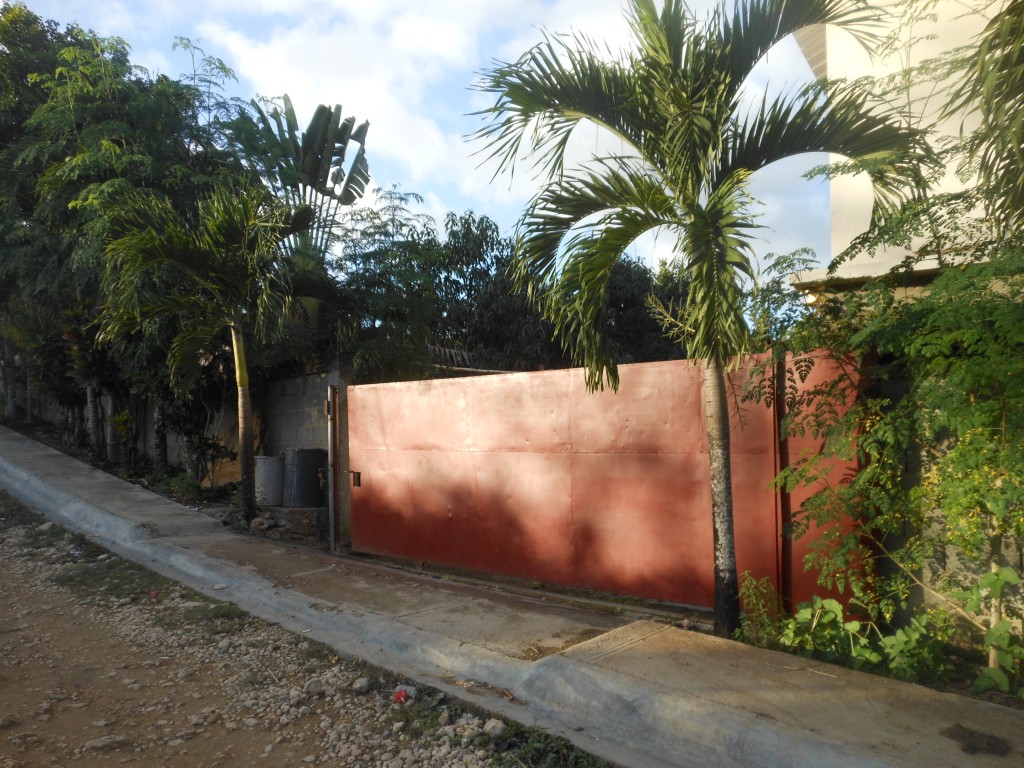 If you've arrive when the gate is locked, just call out to the team and she should be able to hear you from the main house and come over to let you in.  Congratulations on your arrival and we hope you enjoy your visit to Taino Farm!