All in all Its been a very good week for Taino and permaculture in the DR, and apparently we have a healthy Zone 5 at Finca Taino!
A group of us went up to the farm and we took a few different species of bananas and plantains and created four new Banana Circles. They add diversity to the food forest, help to suck up a lot of water in the wet season in an area that can get boggy and also provide food for us and mulch for the forest and nearby annual gardens.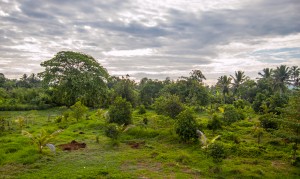 Thanks to a good friend of mine, Olly Dadswell, I was also able to finally track down some proper orange sweet potatoes that had seemed impossible to locate in the country.  We're now in mass propagation mode. Sweet potatoes are so good for developing food forests as they are living mulch, they provide the perfect environment for small organisms which add loads of nutrient to the soil. They also have a fungal base which is exactly what forests need.
Bryan and I went out for a couple of bohemia's that evening, watched basketball with a couple of local guys and had a blast. In the morning I decided to go for a dip in the river to seize my day. To my delight, there was a little turtle already enjoying the river. This really put me in the moment, a subtle reminder of the beauty of nature. One of permaculture's principles is about zonation. The final zone, furthest form the house is generally left completely unmanaged and natural succession is encouraged. It's main function is that it to allows natural forna and flora to return. We can then visit nature, not only for total peace of mind, but also to get inspired, nature is always the best teacher. At Taino Farm, we are lucky to have a river running through our zone 5 . Seeing that the river is a healthy enough river to have cranes and turtles really warmed me up and set me up for a great week.
To put the icing on cake, I opened my laptop to Permacuture news.org and the most recent post was stating that there were a few more places for an online PDC with Geoff Lawton, who is probably the most active man in permaculture at present. I'd wondered for some time how I would do the course whilst living here. I have already found, watched and read almost every free resource I could find, so it really felt like it was meant to be.
In 2011 I dropped out of university after a semester because I didn't see a future in it. I had originally wanted to go through University to eventually research and teach in the fields of Geography and Biology. I didn't feel I was passionate enough though. Trusting my instincts was the best decision I could have made. Not only have the last two years been the best two years of my life, but I also get to be here now studying something I really believe can benefit the world. I already plan to visit other projects all around the globe and potentially Visit 
Maya Mountain Research Farm
 in Belize and take an advanced course next March. Its fair to say Permaculture has made its mark on me and I hope to continue to spread the good word.
Post by Charlie.
https://tainofarm.com/wp-content/uploads/2017/11/tainofarm-logo-no-text-but-taino-farm-logo-for-website.png
0
0
Rob B.
https://tainofarm.com/wp-content/uploads/2017/11/tainofarm-logo-no-text-but-taino-farm-logo-for-website.png
Rob B.
2013-06-27 12:40:09
2013-08-05 07:17:37
A healthy Zone 5 at Finca Taino