Robbie :After finishing school, Robbie went on a 'walk about' through south east Asia and discovered the delights of tropical fruit, tropical weather, and tropical nature. Fifteen years later,  he found a small piece of paradise on the Yassica River.
---
Victor, Neo, and the Vasques family live in Los Brazos and are thrilled to learn and live sustainably. They have been with the project since the beginning, and  it's hard not to feel the positive energy around them. Their knowledge of local practices, climate, and farming conditions makes them an integral part of the farm's operations. Our farm team works with the community closely to create sustainable solutions in agriculture and development.
Juan Carlos!:  Having grown up in Los Brazos and watched the farm grow from a cow pasture into it's current form, Juan is as much a part of the farm as any other part.  Juan has studied Aquaponic and aquaculture under various mentors and is the steady hand who keeps it all going.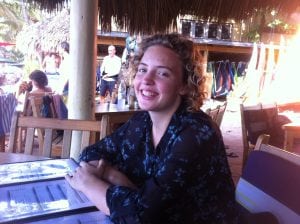 Victoria – Extreme Hotel Manager
Vikki is the manager of The eXtreme hotel and manages Taino Farm interns. Vikki grew up in southern England and  Tarifa, Spain where she worked with horses .
---
This project has grown with the help of the many people along the path  through all sorts of adversity.  Our great supporters include:
Pedro:  Aquaponic Pedro is our mentor for Aquaponics.  He and his brother form Aproponicos Cosecha, the leading Aquaponics system in Puerto Rico.  Pedro trained the farm team and continues to help us whenever needed.
Stuart :  Stu grew up in Africa and southern Australia.  Love brought Stu to the Dominican Republic,  where Stu introduced the farm to Aquapoincs.  From the humble beginnings of a single tank IBC system at the hotel, the Aquapioncs system grew to the 16,000 gallon (and growing) system that is its now.  Stu also introduced Free range poultry as his father taught him in Tanania.
Treeyo Permaculture Doug:  TDoug taught a Permaculture Design Course to the farm staff and spent a couple month training the farm staff helping to implement permaculture projects at the farm
Richard Perkins : Ridgedale Permaculture Richard came to certify Robbie and the team in the first Permaculture Design Course (PDC) in the Dominican Republic in 2011.   It was an eye opener to the benefits of Permaculture Principals, community involvement, sustainable agriculture and tropical lifestyle.
Sadhu:  Sadhu was instrumental in introducing Robbie and Taino Farm into rare tropical fruit and the possibilities.  Sadhu and Govardhan Gardens are one of the best collections of tropical fruit treasures from all over the tropics, and Sadhu inspires sustainable projects the world over.