Posts
https://tainofarm.com/wp-content/uploads/2017/11/tainofarm-logo-no-text-but-taino-farm-logo-for-website.png
0
0
Extremea Gerente
https://tainofarm.com/wp-content/uploads/2017/11/tainofarm-logo-no-text-but-taino-farm-logo-for-website.png
Extremea Gerente
2019-10-05 11:58:24
2019-10-07 10:53:31
Baja Tacos in the DR!
You know what's definitely one of the most exciting things that I experience at the farm?
Breakfast time!
I absolutely LOVE everything about it. Even thinking about it while I'm writing this, I have the biggest smile on my face. I really wish there were more words to describe this feeling of pure happiness that comes from breakfast time here at Taino Farm.
So now imagine…
I wake up with the sound of roosters crowing and chickens clucking just before sunrise. This is also the time when the air is the coolest (for Caribbean standards anyway). The sound is also accompanied by a donkey's HEE-HAW and the cows' mooooos and the sheep's baaaaas. Lying in bed listening to all of these farm noises is the first entertaining moment of the day. It simply makes me laugh to realize where I am. After this I'm ready to go and get ingredients for breakfast. No, not from a market, but right outside from our sustainable farm.
This morning just when I went out from our main house: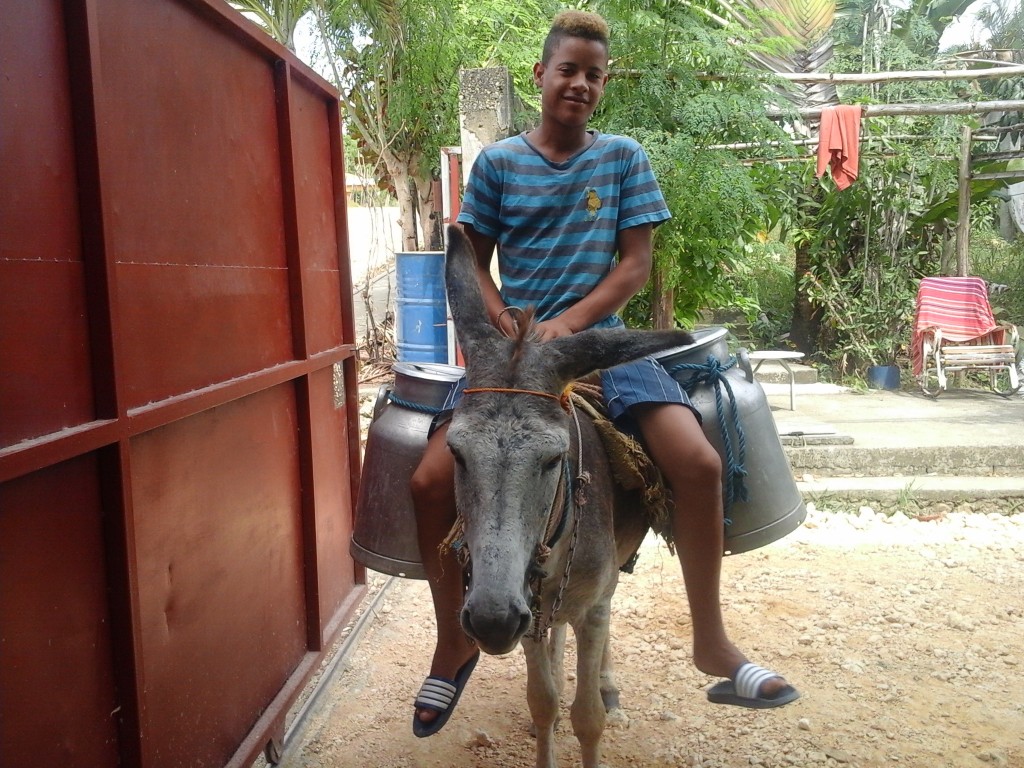 Now, let's visit the chicken crib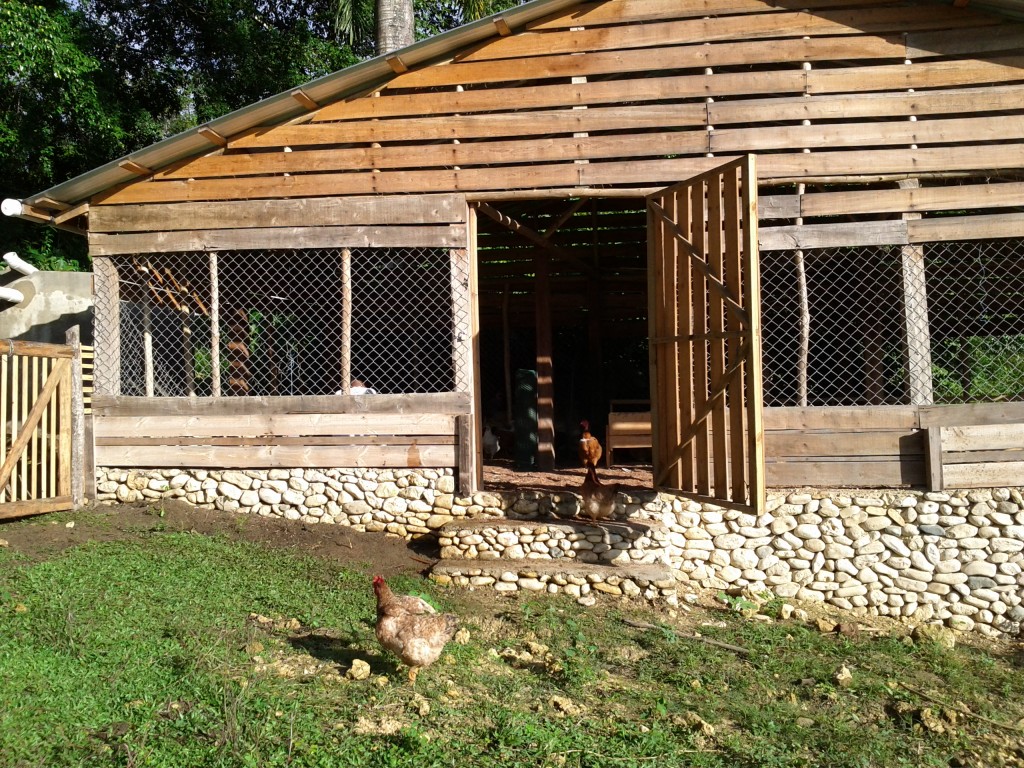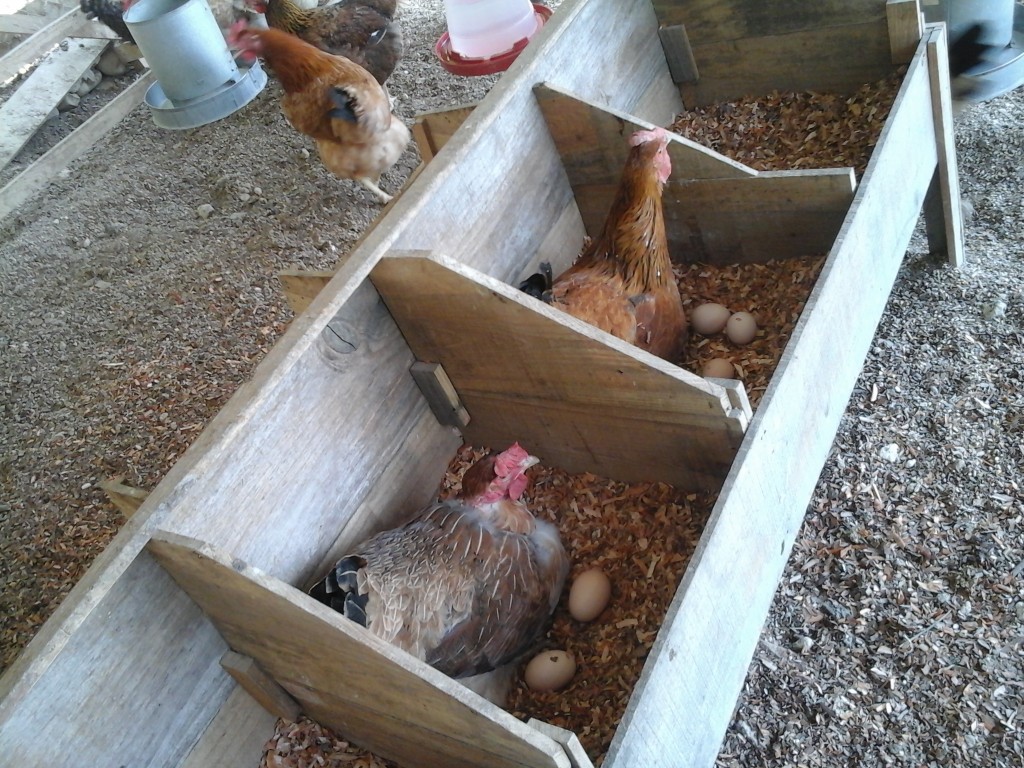 Yep, looks good enough. Let's get them eggggsss
Then, let's pick up some dragon kale (also known as dinosaur kale or tuscan Kale)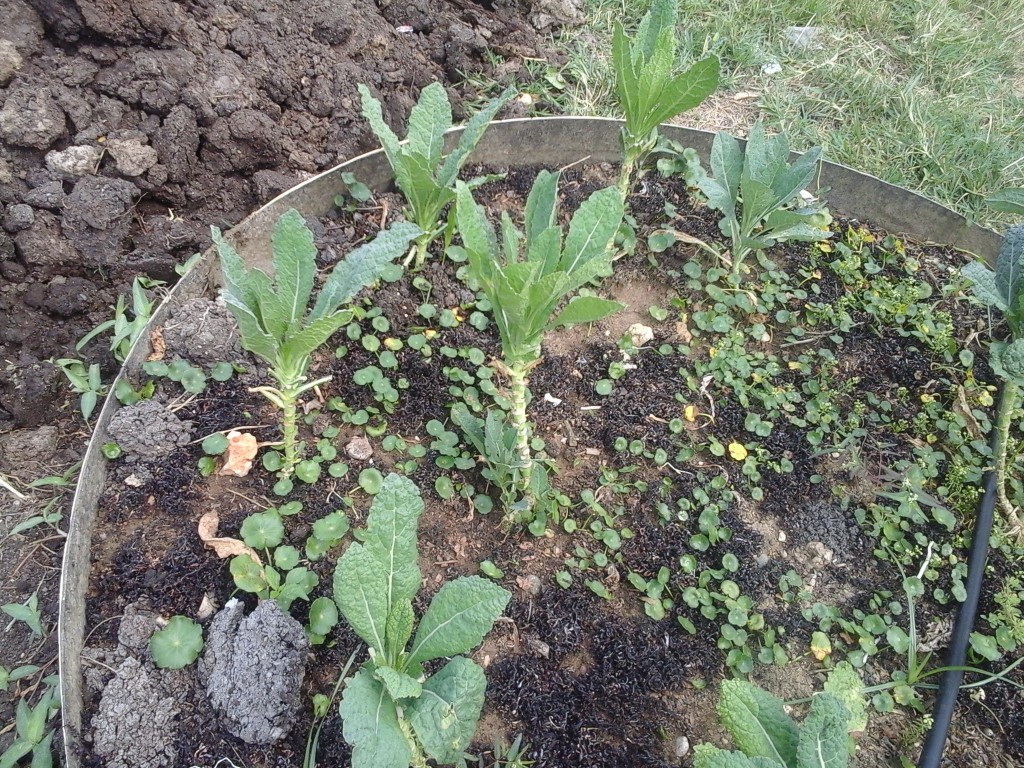 aah…. Truly organic
We'll add two types of mustard greens to spice things up (Tendergreen and Green Wave)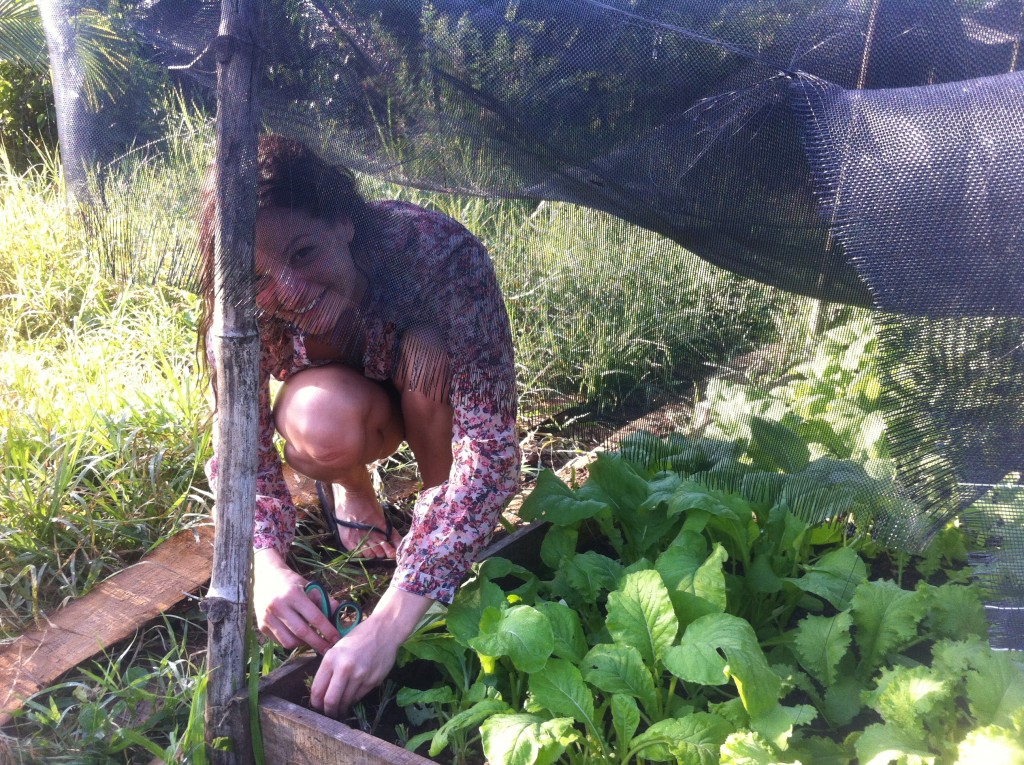 And arugula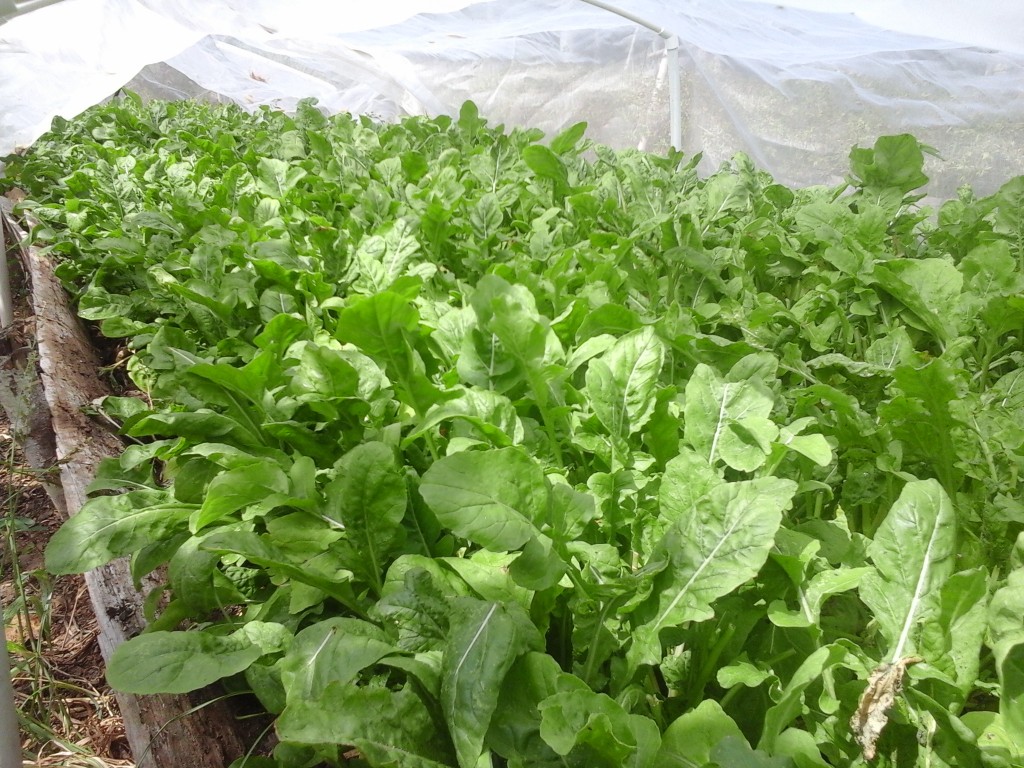 Aaalright, so …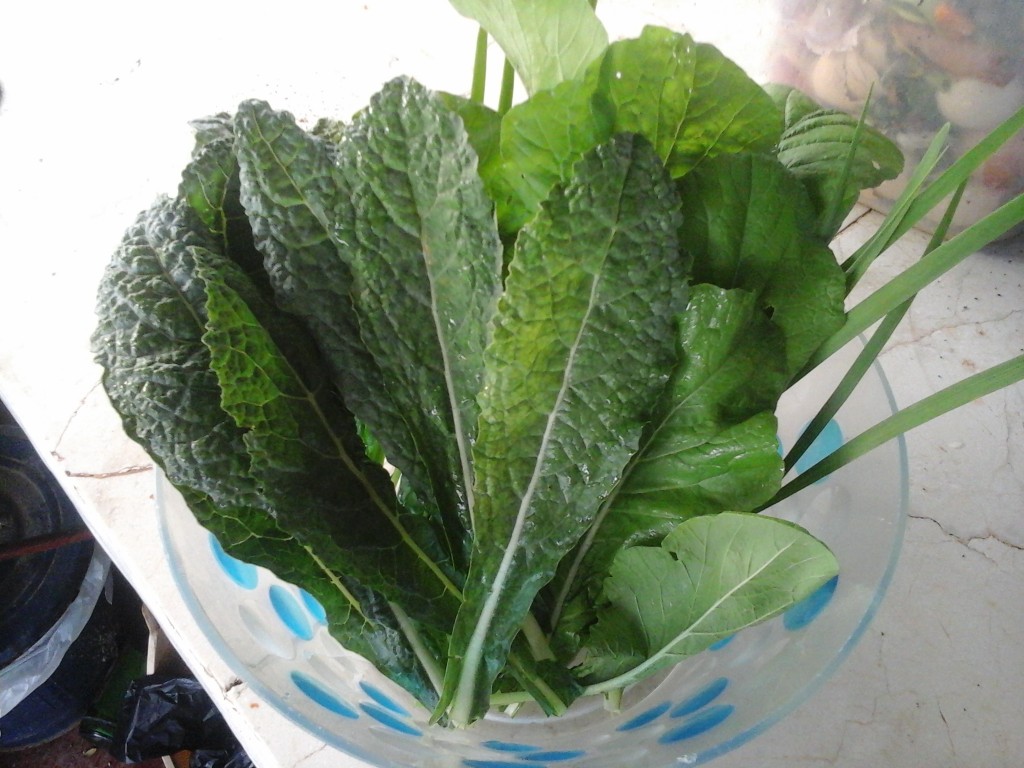 Chop, chop, chop it all up, add some onion, chives, and salt. Whisk, stir and vooooooilaaa!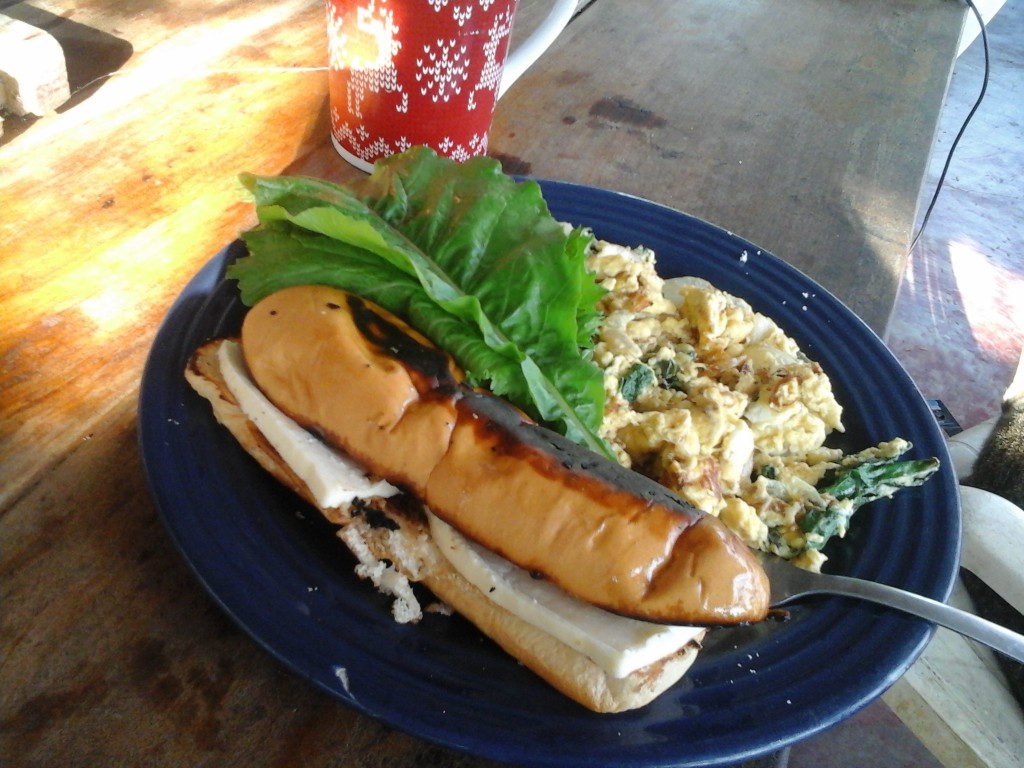 Delicious, organic, homegrown scrambled egg & kale breaky
Okay, so the only thing that's not organic is the bread.  But, hey, finding balance in life is what to strive for (as restricting something will make you crave it!)
Even the cheese is organic and homemade by our vecinos ( neighbours).
All of it is so rich in taste, it's ridiculous. I mean, I feel like a big part of my life has been a lie (food wise!).
Just one last thing … I need some milk for coffee. So I run down the stairs and catch our staff member Victor who just milked one of his cows.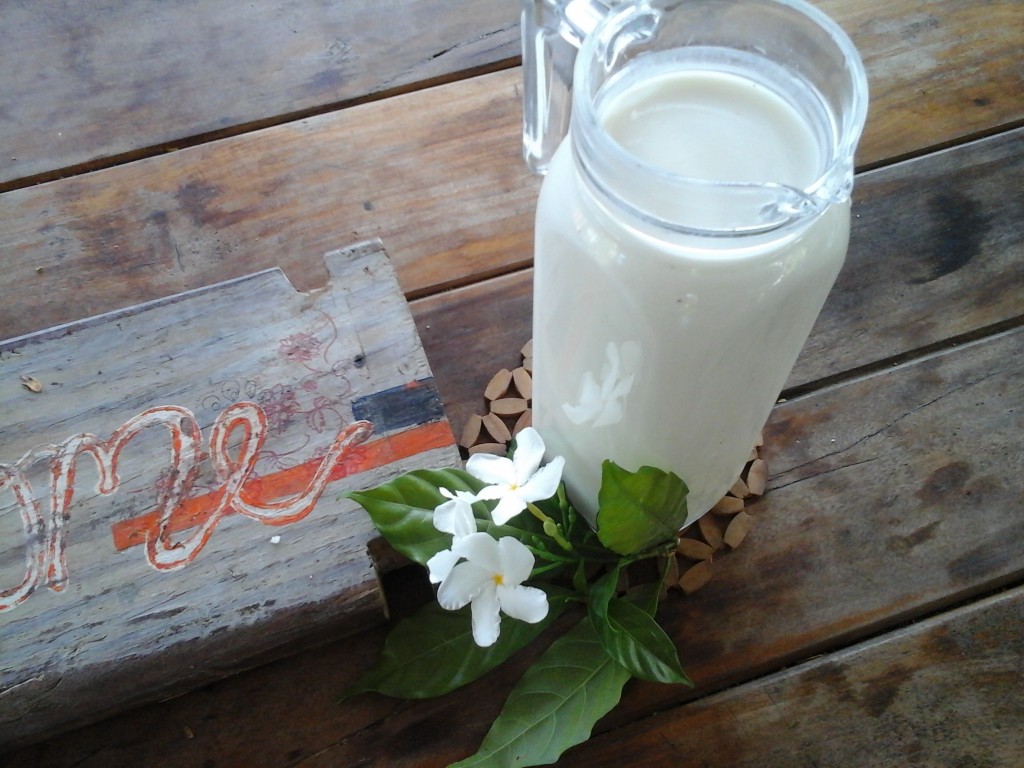 Fresh as it gets, people!
You see how breakfast is not just breakfast anymore? So much excitement, appreciation and gratitude is involved. Since arriving here I've noticed being more present – I feel that connection with nature (and specifically food) that I missed so much. It's this that is making me feel more alive every moment I'm here and getting me into the swing of farm life.
https://tainofarm.com/wp-content/uploads/2015/05/IMG_20141031_075547-e1433006301229.jpg
1425
1900
Extremea Gerente
https://tainofarm.com/wp-content/uploads/2017/11/tainofarm-logo-no-text-but-taino-farm-logo-for-website.png
Extremea Gerente
2015-05-30 13:00:00
2015-05-30 13:21:30
Charmed Life: What's for Breakfast?
When you live on a farm and are able to eat food that you grow or raise yourself, you have a very different connection to what is on your plate. At Taino Farm, we try to base our meals on what is available. Eating this way can be a challenge as it requires some creativity; you think of ways to cook with what you have instead of basing meals on what you feel like and buying the ingredients. However, the reward is huge. When I eat food straight from our garden, not only do I notice the intense difference in taste by eating the freshest food possible, but there is a sense of pride that comes with being a part of the process of growing it – from planting to harvesting. I swear food tastes better just knowing that you were there helping it grow along the way.

Besides growing fruit and vegetables, we have animals including chickens, turkeys, cows, sheep and the fish in our aquaponics system. By raising animals in a sustainable, respectful and very humane way, we hope to provide omnivores with sustainable food options. When we have volunteers, a common want is to have more of a connection to the food they eat and this often includes meat. Our most recent volunteer, Andreas from Sweden, had the ambition to learn how to butcher a chicken. He feels that this is an important skill for all meat eaters to have. I asked him to write about the experience. The following excerpt is written by Andreas. It is not necessarily the opinion of Taino Farm, but we respect and appreciate volunteers having the courage to share their experience by writing for us.

---
"Today I learned how to kill, pluck and prepare a rooster.
I think the killing itself is something we in the west are so distant from that we find the act itself repulsive and sickening, but it's important to relearn how to prepare your own food and all aspects of it. On a farm you kill what you need to eat. You don't kill for fun. We also try to use the most humane possible way of doing this – ways that are the least stressful for the animal in comparison to factory farmed meat that most people in the western world eat on a daily basis.
Meat bought at the supermarket is rarely local and the life of that animal has been, to say the least, horrible. The amount of fossil fuels that have gone into transporting, packaging and cooling the meat and the amount of non biodegradable styrofoam packaging and plastic wrapping that comes with it is a wasteful and unsustainable practice. It is a reminder of how society has long ago become detached from nature.
We see our chicken fillets in the meat desk of the supermarket and somehow the connection between a living animal and our food in the toxic wrapping we buy is lost.
What happens if the world economy collapses and people don't know how to kill and prepare their own food? Will we go vegetarian by default?
We are in the hands of big multinational corporations that control not only our food supply but print money out of "thin air" and keep us docile by poisoning everything we touch, wear, brush our teeth with, and use to wash our clothes and bodies. You name it – everything you think of contains poison that does not need to be there! And soon enough clean drinking water will not even be a human right anymore.
Bottom line, if we can't kill and prepare our own food that we know has had a good life on our own or a neighbour's farm, that is organic, sustainable, and part of the life we had always lived before the coming of industrialism and the discovery of oil, then we should stop eating meat at all."
by Andreas Nordgren
https://tainofarm.com/wp-content/uploads/2017/11/tainofarm-logo-no-text-but-taino-farm-logo-for-website.png
0
0
Extremea Gerente
https://tainofarm.com/wp-content/uploads/2017/11/tainofarm-logo-no-text-but-taino-farm-logo-for-website.png
Extremea Gerente
2014-12-18 20:58:37
2014-12-18 20:58:37
Connection to Food: A Guest Blog by Andreas Nordgren